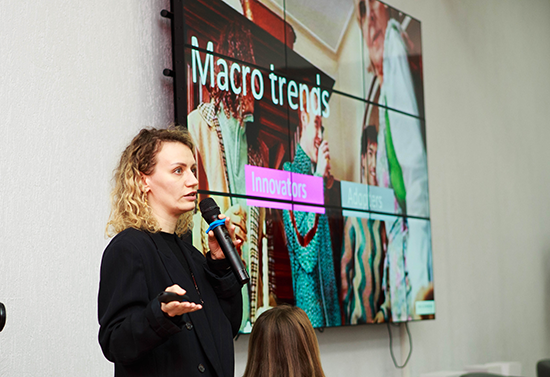 Since December 7, the IV All-Russian Festival "Fashion 4.0 - Evolution" is being held in Ivanovo. And it started with trend prefix words: trend hunting, trend watching and others. In short, it began with the art of noticing, predicting and working with macro trends.
An international group of experts, whose experience is associated with the practice and development of collections for both luxury brands and the mass market, presented TRENDSITE - a professional platform for designers, buyers and brand owners, as well as ideas and trends that will change the global industry in the nearest future.
The key drivers of technological and consumer trends were introduced to the participants and guests of the Festival .They were Marina Meshkova, who has worked for more than 10 years as an analyst in the largest retail companies, Alexandra Kaloshina ,the founder of the famous Russian textile design bureau Solstudio, who has become a global trendsetter in fabric patterns, and a graduate of Manchester University and College of Fashion, London University of the Arts Irina Kushnerevich. They were joined online by Fiona Coleman, a textile and color consultant for companies and brands, and Pita Marian, who previously worked for WGSN in the USA, Europe and Australia.
The meeting with fashion analysts was opened by the deputy chairman of the government of the Ivanovo region, Lyudmila Dmitrieva, who, addressing designers and entrepreneurs who materialize the creative ideas of designers, noted the importance of being ahead of macro trends in the fashion world in order to minimize risks while creating and launching new products.
It is a real fact that fashion has changed very rapidly lately. Brand owners looking for market leadership and aspiring young designers dreaming to make a name for themselves have to be aware of these changes. There will be more than once when they discuss what the consumer will like in a year or even five years. And it will take place during the expert evaluation of the participant works in the competition among young designers, and during another trend session.
On December 10, it will be held by a practicing designer, graduate of IVSPU Maxim Krylov and Academic of the National Academy of Fashion Industry, Associate Professor of the St. Petersburg State University of Technology and Design Maya Kuznetsova. Both speakers will talk about trends in prints and materials. Maxim will present an analysis of the forecast conclusions of the world trend agency WGSN, and Maya Mikhailovna will invite the audience to evaluate how fashionable trends are present in the crochets of fabrics presented at the festival competition, as well as in the diploma works of students of creative directions of preparation of Ivanovo, Moscow and St. Petersburg.