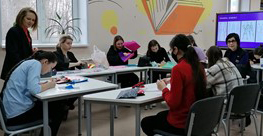 In Ivanovo, the city Olympiad of workers "BASIC SKILLS" has started, in which any student who is ready to try himself in different professions can take part. On November 23-24, the Ivanovo Polytechnic became the base site of the Olympiad.
It is worth noting that by the decision of the Department of Education of the Ivanovo region, the Olympiad "BASIC SKILLS" became the preparatory stage of the WORLDSKILLS RUSSIA championship and will last until December 2. Ivanovo Polytechnic University, becoming one of the Olympiad venues, presented 11 competencies.
As of today, competitions in five competencies have already been held on the basis of the university. So, according to the competence of "Fashion Technology", which was supervised by the Department of sewing design, the participants had to make a skirt according to the proposed sample. All operations were carried out on industrial sewing equipment, and the results were evaluated by the head of the quality control department of the Lanika sewing enterprise Valentina Vanda, associate professors of the department Marina Smirnova and Marina Surikova.
Within the competence of the "Digital Fashion Designer", in which the Department of KSHI is also strong, associate professor Irina Zhukova, graduate student Xia Peng and head of the department, Professor Viktor Kuzmichev offered the guys to plunge into the world of digital fashion, work with a bodyscanner and design the same skirt, but in virtual form, and then present it on a computer avatar.
The professional competition in the competence "Materials and equipment of engineering systems" was held by the head of the Department of Construction and Engineering Systems Evgeny Krupnov, Associate Professor of the Department Maria Ometova and Director of the Institute of Architecture, Construction and Transport Elena Kormashova.
The staff of the Department of Materials Science, Commodity Science, Standardization and Metrology offered to determine the method of production, composition and structure of textile material to the participants of the competence "Laboratory and chemical analysis". The guys could use the organoleptic method, the method of laboratory analysis or use a microscope. The experts were the head of the testing laboratory of JSC "Iskozh" Lyubov Egorova, Associate Professor Marina Stasheva and Director of the Institute of Competence Development Tatiana Novosad.
And the students who chose the competence "Graphic Design" and came to the Department of Costume and Textile Design named after N.G. Mizonova had to complete a creative task. They were asked to design a sign and logo for a luxury women's clothing brand. The results of the contestants' work were evaluated by the head of the department Olga Surikova and senior lecturer Ksenia Demyanenko.